Amy Hong: South High's Table Tennis Master
Amy Hong ('22) is an extremely talented table tennis player with an interesting history and compassionate love for the game. 
Table Tennis Background
Hong started playing table tennis when she was only five years of age in China. She, later on, would go to an academy in Beijing (the capital of China) to hone her skills even more. After she moved to America, Hong delayed playing for a year and put her energy into learning English instead, and then after the year, her father took her to a small local tournament. There, the referees saw she was interested in doing more table tennis so she got taken under the wing of Dr. Qian in the 4th grade and trained under him for years. Unfortunately, since Qian passed away due to illness in her sophomore year she hasn't had a coach since and she now continues to play with her father and other adults at the local club.
"Dr. Qian was pretty hard on me, and I spent a pretty significant portion of my weekends and summers drilling one-on-one, with hours of harsh practice, but ultimately I'm super grateful for him and what he's done for me to help me to where I am," Hong said.
Starting Table Tennis Club
Hong started Fargo South's table tennis club when she was only a freshman. "It was definitely hard to start a club in freshman year, especially when you're still figuring out everything with your new life in high school. However, I had a lot of support from friends, fellow students, teachers, and the administration, as well as the local table tennis adult club, which is why we've been able to continue despite having multiple incidents in the last two years, such as a roof collapse and Covid-19 cutting all activities short," Hong said. She claims she started the club because of her childhood experiences; she wanted to share the joy of the sport with other students at South.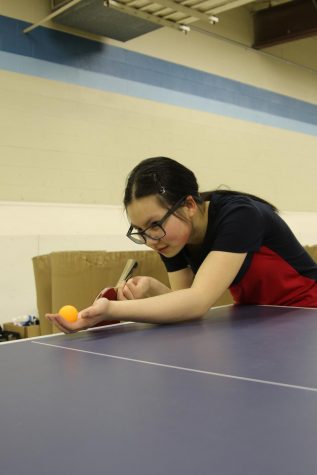 Playing Style
"I think ping-pong is a very special sport in that it relies on extremely fast reflexes and thinking and is a very fast-paced sport, and is very elegant when you play it correctly," she declared, "There's a strange balance of grace and power, almost like a very rhythmic dance." 
Hong's playing style is very intricate, elegant, offensive, and aggressive. She tries to drive a topspin as much as possible since forehand topspin, smashing, and looping are her specialties and her defensive skills aren't as fleshed out as her offensive ones. Although if an opponent is good at defense, going offensive can be quite exhausting, so forehand topspin isn't always the best option.
Her favorite technique is forehand smashing; it's a very quick move that uses a lot of raw power, and everything happens in a split second and the body has to twist a lot to generate momentum. When you stand two meters away from the table and drive the ball forward with all your might, there's a huge adrenaline rush and the rhythm of the ball bouncing just keeps you on your feet.
Accomplishments
In terms of accomplishments, Hong has been the local FM champion for the last five consecutive tournaments (there wasn't a tournament last year and won't be this year either due to Covid-19) and she's placed third in the local adult tournament. 
Hong's Final Thoughts 
"There's beauty in its rhythm and the sounds of the balls as you hit it over and over, thousands of times; its movements are a combination of sheer strength and careful, calculated precision; and the feel of sweat and adrenaline and your fingers shaking a little after gripping the paddle for so long is just… wonderful," Hong shared.
She says she continues to love table tennis due to it being an amazing sport that also comes along with amazing friends and an amazing, supportive, and patient extended community. She recommends ping-pong to anybody who enjoys racquet sports.